Today is your last chance to enter two fabulous Valentine's Day Giveaways!
Indigo Skye: Ink and Art
and
Eden Fantasys
are teaming up to make your Valentine's Day the hottest yet! One lucky contestant will win a copy of my book,
Her Captive Muse
, and a $25
Eden Fantasys
Gift Card. Wondering how you can win? It's easy. Just answer one little question...
What's the most unusual place you've ever had sex?
Send your answer via email to
indigoskyeinkandart@gmail.com
for a chance to win. Each participant will receive a free download of my short story,
Cherry-Boy,
just for playing. I'll post the winner here tomorrow, with a special shout-out on my Valentine's Day
Noble Romance Authors' Blog
guest post as well.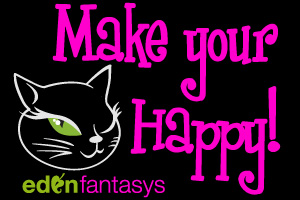 Noble Romance is giving away all kinds of sweet prizes, donated by their team of generous and talented authors. Click here for all the juicy details about the
Noble Romance Valentine's Day Giveaway
.
My author swag? I'll be giving away copies of my new book,
Her Captive Muse
. I'm so excited to participate in this fabulous online event. Wishing you all a sexy Valentine's Day!