We have a winner! Congratulations, C.M.! You are the lucky winner of a copy of my e-book,
Her Captive Muse
, and a $25
Eden Fantasys
gift card! To determine the winner, we asked contestants to answer one little question…
What's the most unusual place you've ever had sex?
Winner C.M. writes…
The most unusual place I've ever had sex was in a vacant barn- or so we thought! (Yes we were caught!) We did it on the loft in the hay, in the middle of the day during a walk we were talking! Even though it was years ago, I can picture it as if it was yesterday.
We so will never forget this, LOL. My hubby sometimes still teases me and says 'someone's coming!'
And I don't know if he is teasing me, um you know, either someone is coming in or...'someone is' cumming, LOL! He's hilarious since this happened and we laugh 27 years later!!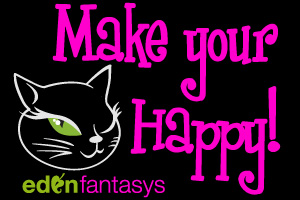 Thanks for playing! All contestants received a free download of my erotic short story, Cherry Boy! Missed the contest? Don't worry, you'll have plenty of chances to win more great prizes as my blog tour continues this spring. And, as a special treat for readers, you can check out
Cherry Boy
on today's
Noble Romance Authors' Blog
. I'll be sharing a free read and some sexy story starters in celebration of Valentine's Day!