I spent yesterday in bed with my lover- and a sexy new vibe from Eden Fantasys! They sent me a Doc Johnson Pocket Rocket to review, and I'm dishing about it today at Indigo Skye: Ink and Art.
My care package included a pussy-pink vibrator and a bottle of an experimental new personal lubricant, i-lube. This lube is specially designed to heighten sensation. It's got a silky glide that doesn't get sticky, leaving you high and dry.
My new vibe is sleek, and equipped with a textured cap that doubles as a second head. Snap it off, and you'll find three chromed pleasure-nodes that made my pussy purr in ecstasy.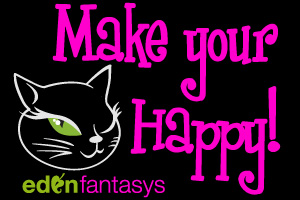 This sleek, compact vibe is small enough to slip into your evening bag- even the tiniest clutch is big enough to conceal this powerful little Pocket Rocket. It's only got one speed, but it's a strong, steady, pulse that's sure to please.
My new i-lube comes in a convenient pump dispenser- no messy spills at awkward moments!- definitely a nice touch. There's no icky fake fruit or candy flavors, which are sometimes a turn-off for me- just a neutral taste. The light, silky texture lets you enjoy up-close-and-personal oral action without the unpleasant aftertaste some flavored lubes leave behind.
Thanks for my care package, Eden Fantasys! A special shout out to Maria D. and Carrie Ann for hooking this up. You made my pussy very happy!
Typing With Sticky Fingers,
Indigo Skye
Please note- the products listed in this post were provided to me free of charge by Eden Fantasys, in exchange for my honest opinion of their wares.